Electric December for Children's Olympic films
Animated films by children at two Weymouth primary schools have been selected for an international showcase of young filmmaking talent.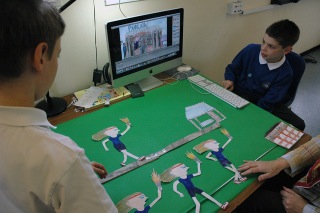 The Big Splash and the Helpful Dead, made for the Olympics by pupils at St John's Primary and Wyke Regis Junior schools will be part of Electric December, a countdown calendar featuring the best of young people's short films from across Europe.

The films, seen by thousands on big screens during the summer, will now bring Weymouth and Portland - as seen through the eyes of ten year olds - to an international audience.

Over the course of a month in each school the young filmmakers worked with a group of six artists from Dorchester Arts, led by Sharon Hayden of digital arts organisation ScreenPLAY.


She said the children gave both films a strong sense of place and local identity.

"In the Big Splash they wanted to capture the feel of the torch relay on Weymouth seafront and the determination and courage of a group of young people swimming across the bay.
In researching Helpful Dead, the children found a head teacher's diary from 1872 with descriptions of a shipwreck off the Chesil. This gave them the idea to link a Victorian tragedy with the 2012 Olympics," she explained.
The films, plus the third in the trilogy the Portland Race, were funded by the lottery through the BFI's First Light initiative.