Best Film for Helpful Dead
01/12/12 10:48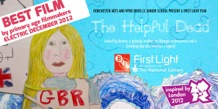 The Helpful Dead has won
Best Film by primary age children
at the Electric December 2012 awards in Bristol.

Four of the filmmaking team from Wyke Regis Junior school joined facilitators Sharon Hayden and Alastair Nisbet from ScreenPLAY to receive the award at Bristol's Watershed - and a bag of film goodies from sponsor Aardman Animation.

Project producer Sharon Hayden said it was a wonderful achievement for the ten year old filmmakers.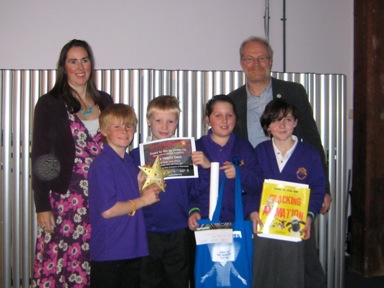 "We're thrilled their work is being recognised in this way.
It's the first time any of these children have been to Bristol - and being part of these awards has opened their eyes to some of the opportunities out there in our creative industries. Best Film in Electric December could perhaps be a first step on the path to a career in film."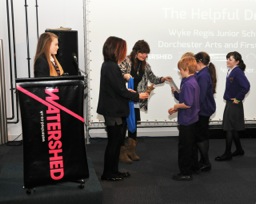 Other winners travelled from as far away as Poland for this year's awards. Best animation went to 20 year old Agnieszka Konarska for her atmospheric film Hunt about a Raven and its bid to escape.

Best Comedy went to Taking Out Tim by Tiverton High School with My Pockets, and Best documentary to Adrenaline Junky, a moving film about a motorcyclist regaining his action packed lifestyle after an accident.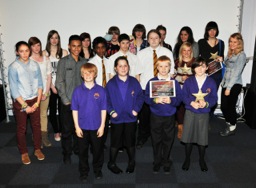 Electric December producer Hannah Higginson said the films had all been chosen for their imaginative and distinctive style. "I've been knocked out by the huge amount of flair and talent on show this year. We are committed to developing new talent and it's a joy to see the exciting range of films from across Europe.

All the Electric December films are on the website
electricdecember.org
- including The Big Splash, one of the other Dorchester Arts Olympic films by St John's Primary School in Weymouth.

The Helpful Dead was based on a real life tragedy and
characters were inspired by Victorian works of art in Birmingham and Cambridge. Read about
the real people behind the story
.

The Helpful Dead was funded by the Lottery's First Light initiative with additional support from b-side, Departure Arts and the school itself.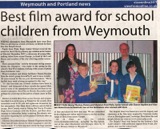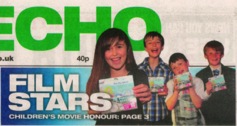 The Willow Pattern Story
17/10/12 22:29



I've just noticed that our short animation of the the Willow Pattern Story from a half term workshop a few years ago has topped 17,000 views on You Tube ! Seemed like a good excuse to tell people about it again.

The young people who took part should feel really proud of their work !
Watch out for the not very subtle comedy moment.

Moving Tides - Weymouth's closing celebration
11/09/12 11:09

Hundreds of schoolchildren in extraordinary Jurassic-inspired costumes created a pulsating carnival of colour, dance, noise and excitement for Weymouth and Portland's closing Olympic and Paralympic celebration - the Moving Tides procession.

The children, from Weymouth, Portland and Dorchester were transformed into iridescent sea creatures as they danced their way along the esplanade, accompanied by junk bands and huge carnival dinosaurs.

Moving Tides was originally scheduled for the day the Olympic torch arrived in Weymouth - but after extreme weather forced postponement, it was rescheduled - in an inspired move by organisers - to the final day of London 2012, September 9th.
Take a Walk on the Wild side
25/07/12 17:45


An animated Peregrine Falcon leads you along The Legacy Trail - a 13 mile trail through Weymouth to Portland Bill along the stunning Jurassic coast.

The trail is one of the Dorset town's London 2012 Olympic legacies, offering visitors and local people a chance to explore the wild side of this stunning part of the country. The Peregrine, drawn by Nic Rawling of the Paper Cinema specially for the project, guides viewers through reedbeds, along Weymouth's bucket and spade seafront to a hidden trail on the old railway line to Portland Harbour and the extraordinary Chesil beach.

From Underhill, it goes up the Merchants' Incline, the track of a historic horse drawn tramway used to move Portland stone to the dock in the 19th century and into a fascinating maze of of old quarry workings, complete with 150 year old tunnels - and, if you can spot it, a fine example of a fossilised tree.

From the Quarries, the trail moves on to the Engine shed, where steam locos on the Portland line were refuelled and maintained, before moving down to the East Weares, a spectacular coastal section - complete with its own herd of wild native goats. Here you could easily see a pair of the island's resident Peregrines with their young, calling to them from the clifftop.

The trail goes on, past cliffs of roped up climbers honing their skills for greater heights, to Church Ope cove where locals enjoy a dip in the sea or try their luck spear fishing for sea bass.

On flies the Peregrine, past long disused cranes used for loading the valuable stone onto waiting barges, until finally it reaches the Bill. Time for a visit to the lighthouse, a welcome bite to eat and a look round the visitor centre.

Have you explored the wild side yet ?
Dinosaur leads Festival 2012's Jurassic procession
03/06/12 08:36

The Jaipur brass band and a huge processional dinosaur led Dorchester Festival 2012's extraordinary procession through the town to the Borough Gardens yesterday.
Dozens of children dressed as Jurassic sea creatures, seagulls and even ice creams, carried brightly coloured ammonite flags or played in an amazing drumming band of junk instruments.


Angel Exit Theatre's The Secret Garden
16/01/12 22:45

Angel Exit unearth the dark heart of The Secret Garden, which sees spoilt Mary Lennox plucked from the bright vibrancy of India and transplanted to a big old house full of secrets on the grey Yorkshire moors.
As Mary battles loneliness she encounters locked doors, a curious robin, hidden keys, and strange cries ringing down the corridor…
Presented in Angel Exit's rich visual style and blending storytelling with striking physicality, beautiful puppets, live singing and an original soundtrack, The Secret Garden is performed by an ensemble of five.
This show for all the family is has been co-produced by Dorchester ARTS and Bridport Arts Centre, and co-commissioned by Lighthouse, Poole's Centre for the Arts, and Activate.

The Secret Garden is touring from January until the end of March 2012 and is funded by Arts Council England and West Dorset Leisure fund. This is Angel Exit's third show created at their base at Dorchester ARTS.
angelexit.co.uk
The Sadness of King George - preview
28/04/11 11:18


Coming Soon - the Sadness of King George - a three minute action drama animation by Year Five Children at Beechcroft St Paul's Primary School in Weymouth.

We've been working with a class of 30 - developing dialog through drama, drawing and animating characters, making them walk and talk, and creating an exciting soundtrack.

We're planning an end of March premiere and an April release. Screenings at Beechcroft St Paul's School, Weymouth College, Dorchester Arts - and later in the year, the big screen on Weymouth beach.