Best Film for Helpful Dead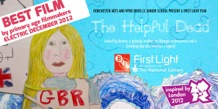 The Helpful Dead has won
Best Film by primary age children
at the Electric December 2012 awards in Bristol.

Four of the filmmaking team from Wyke Regis Junior school joined facilitators Sharon Hayden and Alastair Nisbet from ScreenPLAY to receive the award at Bristol's Watershed - and a bag of film goodies from sponsor Aardman Animation.

Project producer Sharon Hayden said it was a wonderful achievement for the ten year old filmmakers.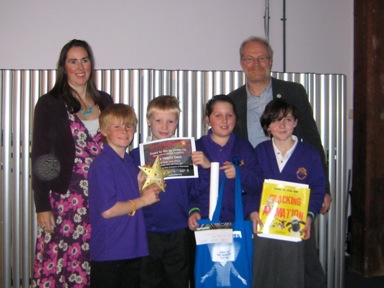 "We're thrilled their work is being recognised in this way.
It's the first time any of these children have been to Bristol - and being part of these awards has opened their eyes to some of the opportunities out there in our creative industries. Best Film in Electric December could perhaps be a first step on the path to a career in film."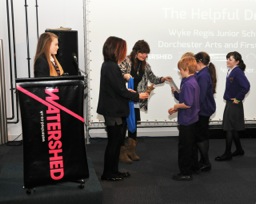 Other winners travelled from as far away as Poland for this year's awards. Best animation went to 20 year old Agnieszka Konarska for her atmospheric film Hunt about a Raven and its bid to escape.

Best Comedy went to Taking Out Tim by Tiverton High School with My Pockets, and Best documentary to Adrenaline Junky, a moving film about a motorcyclist regaining his action packed lifestyle after an accident.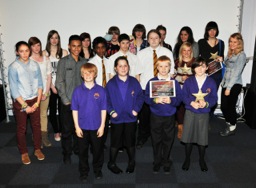 Electric December producer Hannah Higginson said the films had all been chosen for their imaginative and distinctive style. "I've been knocked out by the huge amount of flair and talent on show this year. We are committed to developing new talent and it's a joy to see the exciting range of films from across Europe.

All the Electric December films are on the website
electricdecember.org
- including The Big Splash, one of the other Dorchester Arts Olympic films by St John's Primary School in Weymouth.

The Helpful Dead was based on a real life tragedy and
characters were inspired by Victorian works of art in Birmingham and Cambridge. Read about
the real people behind the story
.

The Helpful Dead was funded by the Lottery's First Light initiative with additional support from b-side, Departure Arts and the school itself.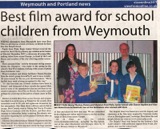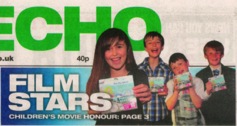 The Helpful Dead - the real people behind the story
02/12/12 08:37 Filed in:
Film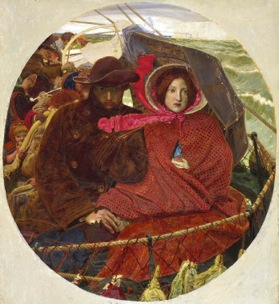 In the days of sail, Lyme Bay was a notorious danger spot for shipping. If you allowed yourself to come too close to the shore, prevailing winds could make it impossible to clear Portland Bill. Many ships foundered on Chesil beach and the Cove acquired a nickname "Dead Man's Cove". The wrecked ships' cargoes were scavenged by the people of Wyke and many of the dead crew buried in Wyke churchyard.

The first draft of the script for the Helpful Dead included skeletons of long dead seamen coming back to life to save an Olympic yachtsmen but it was only in the latter stage of script development with mentor Peter Snelling that he asked the key question: "Why would they ?". Why let generations of sailors die and then choose to save one in particular ? There had to be a link with the past.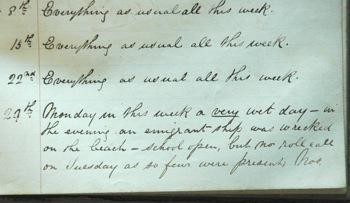 While the children were researching shipwrecks off the Chesil, year leader Miss Lynch produced some old leather bound volumes that had been in school for decades - the head teachers logbook. The book, written in pen and ink script, is the diary by successive head teachers from 1863 - an extraordinary first hand account of all major events affecting school life. Some days there were no children in school because they were out in the fields bringing in the harvest - on others they were on the Chesil, scavenging off wrecked ships.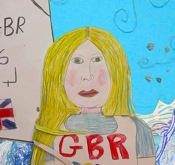 "It being my birthday, I have decided to close the school for a holiday," he declares one day.


Then in November 1872 he writes "Monday in this week, a very wet day - in the evening an emigrant ship was wrecked on the beach. School open but no roll call as so few were present." The Royal Adelaide, carrying families to a new life in Australia had foundered on Chesil beach. Most passengers were saved but six, including a young girl drowned.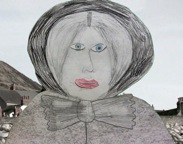 In The Helpful Dead a Victorian mother sees her boy drown as a ship sinks off the Chesil - and we cut to 2012 to find a Olympic sailor in trouble who looks the image of the Victorian mother. The long-dead boy looks up from his watery grave and thinks she is his mother. He summons the Helpful Dead back to life with the words - "It happened to us, don't let it happen to them".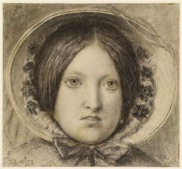 So with script complete, what should our women look like ?

We studied Ford Maddox Brown's famous painting Last of England in the Fitzwilliam Museum in Cambridge and Birmingham Museum and Art Gallery. A young family are leaving England for a new life on an 1860's emigrant ship. The mother, holding the hand of a baby under her cloak is strikingly beautiful. The model for the picture was the artist's wife Emma and our Year Five artists were able to use Maddox Brown's sketches of her as their inspiration for both Joseph's mother and our Olympic sailor Serena.