14/10/12 07:52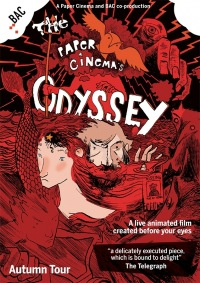 We were blown away by Paper Cinema's stunning new feature-length show at Bournemouth last night - Odyssey.
As the show starts you watch Nic Rawling draw the main characters live, while the credits flicker around them - and at that point you know it's going to be an extraordinary evening.

It's Greek myth as you've never seen before - complete with hitchhiker, motorbike, speedboat - wonderful drawing by Nic and a fabulous soundtrack by his band. People are saying it's the best thing they have ever seen - wow !

The tour continues until the end of November - don't miss it !